Maximum Range

2,692 nm

Maximum Cruise Speed

303 ktas

Maximum Passengers

11

Useful Load

7,145 lb

Takeoff Field Length

4,057 ft
When government, military and commercial customers want airborne solutions for critical missions, they turn to Beechcraft. 
Mission flexibility. affordability. proven reliability.
All make the King Air® the perfect aircraft for special missions, including aerial survey, air ambulance, surveillance and transport. Low acquisition and operating costs make it easy on your budgets and a competitive winner. The ability to go anywhere in the world without additional fuel tanks, and flight times over 12 hours with 45 minutes fuel reserve make it an outstanding choice. Highly engineered reliability and durability were demonstrated in the harshest environments – including extreme temperatures and unimproved runways.
typical special mission options
High Capacity Seating

Air Ambulance Medical Stations & Cabinetry

Up to 3 Camera Openings in Fuselage

 400 Amp Starter Generators

Police/Military/Secure Communications

Search Patterns in FMS

Video Capable Displays

Fuselage Belly Radome

EO/IR Lift with Fairing

Aft Strakes

Aft Observation Windows

Missile Warning, Chaff/Flare Decoys
Multi-mission interior
The King Air 350ER offers flexible, reconfigurable interiors, making them equally adept at accommodating passengers, cargo, air ambulance or other missions. It's no surprise organizations choose Beechcraft to transport their important personnel and cargo – no matter where they fly. The King Air 350ER is built with a standard "slick" mission interior that minimizes weight and maximizes both volume and flexibility for the mission package.
highlights
Interior installations can quickly accommodate a variety of missions.

The King Air 350ER provides large,  pressurized, environmentally controlled cabins.

The King Air 350ER offers flexible, reconfigurable interiors making them equally capable of accommodating passengers, cargo, or air ambulance operations.
CONTACT US FOR DETAILED INFORMATION
Inspired control
Rockwell Collins Pro Line 21 was created with pilot workload in mind. The system allows pilots to review data they receive in order to make clearer, more informed decisions. The heads-up placement of the Flight Director and Autopilot enhance situational awareness and increase safety.The SVS provides more situational awareness, and touch-interactive graphical maps provide high-resolution terrain, weather overlays, obstacles and geopolitical boundaries.
dispatch reliability
A maintenance diagnostic computer, Central Line Replaceable Unit (LRU) detects logs, retrieves and displays current and past failures for specific aircraft information.
standard features
Intuitive graphical touchscreen flight planning

High_resolution Synthetic Vision System (SVS)

Convenient presets to reconfigure all three displays with a single touch

Full multi-sensor flight management system

Integrated touchscreen checklists

Available automatic wireless database and chart uploads

Open and scalable architecture for future upgrades and mandates

NextGen and precision GPS capabilities

New Control Yokes

Std single and optional dual Flight Management Systems (FMS)

Digital Communication, Navigation, Surveillance (CNS) Radio

Dual Air Data Computer (ADC) Systems

Dual Altitude Heading Reference Systems (AHRS)

Terrain Awareness Warning System (TAWS)

Emergency Standby Instrumentation System (ESIS)

Four-Color Weather Radar with Doppler to detect turbulence

Automatic Flight Guidance System (AFGS)

Traffic Alert and Collision Avoidance System (TCAS II)

Cockpit Voice Recorder
The Extended Range (ER) version of the King Air 350 increases the gross weight by 1,500 lbs. through substantially larger and stronger main landing gear struts/wheels/tires & brakes, and increases the fuel capacity by 236 gallons/893 liters to a total of 775 gallons/2,934 liters through use of low drag metal fuel tanks aft of the powerplants. Higher gross weight and higher fuel capacity result in significantly more mission flexibility.
Dimensions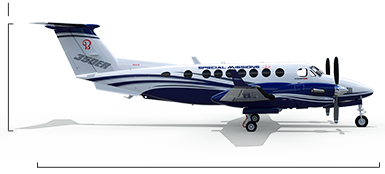 Length
46 ft 8 in (14.22 m)
Height
14 ft 4 in (4.37 m)
Wingspan
57 ft 11 in (17.65 m)
Wing Area
310 sq ft (28.8 sq m)
Wheelbase
16 ft 3 in (4.95 m)
Tread
17 ft 2 in (5.23 m)
Cabin Interior
Height
57 in (1.45 m)
Width
54 in (1.37 m)
Length
19 ft 6 in (5.94 m)
Maximum Passengers
11
Baggage Capacity
Weight
N/A
Volume
N/A
Single Pilot Certified
Yes
Weights
Maximum Ramp Weight
16,600 lb (7,530 kg)
Maximum Takeoff Weight
16,500 lb (7,484 kg)
Maximum Landing Weight
15,675 lb (7,110 kg)
Maximum Zero Fuel Weight
13,000 lb (5,897 kg)
Usable Fuel Capacity
Weight
5,192 lb (2,355 kg)
Volume
775 gal (2,934 l)
Basic Operating Weight
9,455 lb (4,289 kg)
Useful Load
7,145 lb (3,241 kg)
Maximum Payload
3,545 lb (1,608 kg)
Full Fuel Payload
1,953 lb (886 kg)
Performance
| | |
| --- | --- |
| Maximum Cruise Speed | 303 ktas (561 km/h) |
| Maximum Range | 2,692 nm (4,986 km) |
| Takeoff Field Length | 4,057 ft (1,237 m) |
| Landing Distance | 2728 ft ( 831 m) |
| Maximum Operating Altitude | 35,000 ft (10,668 m) |
| Maximum Climb Rate | 2,400fpm (732 mpm |
| Maximum Limit Speed | 245 kias (454 km/h) |
Powerplant
| | |
| --- | --- |
| Manufacturer | P&WC |
| Type | PT6A-60A |
| Power Rating | 1,050 shp (783 kW) |
Aircraft performance is dependent on multiple variables (i.e. winds aloft, number of passengers, temperature and altitude of departure and arrival airports). The range, speed and endurance listed here represent average performance data. Contact one of our experienced Client Services Representatives who will be able to advise you on additional fuel stops or other limitations needed based on your itinerary and aircraft.
ABSOLUTE AVIATION GROUP
WITH YOU FOR THE JOURNEY