Maximum Range

1,260 nm

Maximum Cruise Speed

272 ktas

Maximum Passengers

8

Useful Load

3.280 lb

Takeoff Field Length

1,984 ft
The King Air® C90GTx is a whole new world of flying that offers the impressive King Air qualities of performance combined with comfort.
The Beechcraft® King Air® is more than just a business icon
For generations, the King Air 90 series has delivered the performance to go farther, carry more and reach new heights, all with legendary efficiency. Its performance, quality and reliability have inspired enthusiastic loyalty and have made the King Air the world's most popular business turboprop.This versatile workhorse has great range and payload due to its features like composite winglets, swept-blade propellers and dual aft strakes. The King Air C90GTx is sure to become your new favorite aircraft.
Unparalleled comfort and spacious design
Uncommonly quiet, the King Air C90GTx carries up to eight passengers in refined comfort. Club-style seats fully articulate and recline, and your passengers will enjoy spacious head and shoulder room in a cabin designed for maximum freedom of movement. Comfort and convenience are further enhanced by fine cabinetry, a belted, private aft lavatory and storage compartments accessible in flight.The King Air C90GTx features our famed square-oval design which provides more headroom and shoulder space for every passenger. The versatile and roomy 227-cubic-foot interior is sophisticated and convenient in design. The cabin is equipped with 26 tuned vibration absorbers to keep the area quiet and comfortable.
highlights
The King Air C90GTx has two vertical sidewalls that offer more head, shoulder and leg room.

The amazingly quiet cabin is the result of 26 dynamic vibration absorbers mounted throughout the cabin.

Sophisticated design and advanced craftsmanship worthy of the Beechcraft name.
CONTACT US FOR DETAILED INFORMATION
The world's most proven flight deck
Step into the flight deck of the King Air C90GTx and know immediately that this aircraft means business. Pro Line Fusion™ avionics provide exceptional situational awareness, making this King Air easy for single pilot operations, while those accustomed to piston-powered twins will feel at home. Electronic charts and a graphic weather display minimize pilot fatigue. A high-resolution synthetic vision system (SVS) helps pilots fly with patented airport dome graphics, full multi-sensor flight management and convenient presets to reconfigure all three displays with a single touch.
The King Air C90GTx features Rockwell Collins Pro Line 21 avionics. This system offers simplified single-pilot operation to reduce pilot fatigue and reduce operating economics. Pro Line 21 comes standard with full IFR certification, and the aircraft is fully certified for flight into known icing.
flight planning assurance
The simple icon-based interface allows you to easily transition from weather, traffic and charts, right when you need them on three 14-inch, widescreen LCDs with advanced graphics.
Standard Features
Intuitive graphical touchscreen flight planning

High-resolution Synthetic Vision System (SVS)

Convenient presets to reconfigure all three displays with a single touch

Full multi-sensor flight management system

Integrated touchscreen checklists

Available automatic wireless database and chart uploads

Open and scalable architecture for future upgrades and mandates

NextGen and precision GPS capabilities

Electronic Flight Instrument System (EFIS)

Engine Indicating System (EIS)

Air Data System (ADS)

Dual Attitude Heading Reference System (AHRS)

Automatic Flight Guidance System (AFGS)

Flight Management System (FMS)

Weather Radar System (WXR)

Dual Navigation and Communication Radios
When pilots step up to the King Air C90GTx, they enter a whole new world of performance.
Its predictable handling, combined with the comfort and reliability only a King Air can deliver, makes this the turboprop for operators looking to expand their reach and realize their highest potential.
Dimensions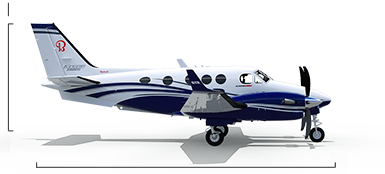 Length
35 ft 6 in (10.82 m)
Height
14 ft 3 in (4.34 m)
Wingspan
53 ft 8 in (16.36 m)
Wing Area
295 sq ft (27.41 sq m)
Wheelbase
12 ft 3 in (3.73 m)
Tread
12 ft 9 in (3.89 m)
Cabin Interior
Height
57 in (1.45 m)
Width
54 in (1.37 m)
Length
12 ft 7 in (3.84 m)
Maximum Passengers
8
Baggage Capacity
Weight
350 lb (158.8 kg)
Volume
48 cu ft (1.37 cu m)
Single Pilot Certified
Yes
Weights
Maximum Ramp Weight
10,545 lb (4,783 kg)
Maximum Takeoff Weight
10,485 lb (4,756 kg)
Maximum Landing Weight
9,832 lb (4,460 kg)
Maximum Zero Fuel Weight
9,378 lb (4,254 kg)
Usable Fuel Capacity
Weight
2,573 lb (1,167 kg)
Volume
384 gal (1,454 l)
Basic Operating Weight
7,265lb (3,295 kg)
Useful Load
3,280 lb (1,488 kg)
Maximum Payload
2,113 lb (958 kg)
Full Fuel Payload
707 lb (321 kg)
Performance
| | |
| --- | --- |
| Maximum Cruise Speed | 272 ktas (504 km/h) |
| Maximum Range | 1,260 nm (2,334 km) |
| Takeoff Distance | 1,984 ft (605 m) |
| Landing Distance | 2,100 ft (640 m) |
| Maximum Operating Altitude | 30,000 ft (9,144 m) |
| Maximum Climb Rate | 1,900 fpm (579 mpm) |
| Maximum Limit Speed | 226 kias (419 km/h) |
Powerplant
| | |
| --- | --- |
| Manufacturer | P&WC |
| Type | PT6A-135A |
| Power Rating | 550 shp (410 kW) |
Aircraft performance is dependent on multiple variables (i.e. winds aloft, number of passengers, temperature and altitude of departure and arrival airports). The range, speed and endurance listed here represent average performance data. Contact one of our experienced Client Services Representatives who will be able to advise you on additional fuel stops or other limitations needed based on your itinerary and aircraft.
ABSOLUTE AVIATION GROUP
WITH YOU FOR THE JOURNEY