Maximum Range

920 nm

Maximum Cruise Speed

176 ktas

Maximum Passengers

6

Useful Load

1,033 lb

Takeoff Field Length

962 ft
It doesn't get any better than the heart–pumping freedom of flying your own
Beechcraft Bonanza G36.
Single–engine pilots prize the high–performance control and field–tested reliability of the Beechcraft Bonanza G36.
Fast, roomy and comfortable, the Bonanza G36 is the aspiration of any pilot who desires unmatched craftsmanship. This piston–engine powerhouse can carry four passengers 750 miles and has a maximum cruise speed of over 200 miles per hour.
With a cabin almost a third larger than its nearest competitor and advanced Garmin G1000® avionics, the Bonanza G36 is a superior value for your money. And because it is designed and built strong enough to be certified in the rugged utility category, your Bonanza G36 is ready for any adventure with first–class technology and comfort and world–class Beechcraft quality.
The Bonanza G36's cabin easily adjusts from high-class passenger comfort to practical utility in a flash.
The Bonanza G36 treats passengers to the most comfortable ride found in any piston-engine aircraft, without sacrificing hauling convenience.
The spacious cabin can quickly be reconfigured in four different layouts. This flexibility makes it infinitely simpler to accommodate special cargo such as camping gear, golf clubs, skis or bicycles. Generous 45-inch by 35-inch aft double doors utility allows ease of entry and exit, making loading and unloading entry a snap.
Inside there are comfortable leather-finished seats with adjustable lumbar support, LED ambiance lighting, and a stowable executive table. The new automatic climate control system maintains a comfortable environment with little need for attention from the pilot. Cool air is delivered to passengers via the newly designed overhead console, and a dual-zone heat feature allows passengers to control the cabin heat setting independently. And, with a comfortable 101 cubic feet of total space, the cabin's contoured sidewalls provide maximum cabin width. So whether you're flying for business, transporting precious cargo or just trying to get away from it all, the Bonanza's cabin will rise to the occasion.
highlights
Amenities include an extended aft baggage compartment, reading lights and fresh air outlets

Fully automatic environmental system controls both heating and air conditioning

670 pounds of maximum baggage capacity, enough for a variety of missions

The cabin is two feet longer than the Cirrus SR22 Turbo and the Piper Mirage for more passenger legroom

Smoke-grey window tint reduces glare and provides UV protection, and improved noise dampening materials help create a peaceful environment during flight
CONTACT US
FOR DETAILED
INFORMATION
When you fly one, you'll want one: The Bonanza G36 offers a host of flight control and safety innovations.
The Beechcraft design team has meticulously refined the Bonanza G36's cockpit with the latest aviation advancements. The flight deck sports a fully integrated Garmin G1000® avionic system, including an automatic flight control system. Two 10.4–inch, high–res displays show flight instrumentation, moving maps, navigation, communication and identification data.
The Bonanza G36's intuitive layout reduces pilot workload and greatly improves situational awareness. Maintenance is quicker and easier due to the modular, rack–mounted design of the avionics units, which are located directly behind the flat panel displays.
Pilots will also love the enhanced visibility of the solid wrap–around windshield, which curves high into the overhead fuselage.
The Bonanza G36 is powered by the latest technology in integrated cockpit avionics, the Garmin G1000 NXi. With an improved graphical interface, more powerful hardware, higher resolution displays, added functionality to improve situational awareness, and optional wireless technology, managing the flight deck has never been easier.
standard features
Garmin GFC 700 3–Axis Autopilot/Flight Control System

Digital 3–Axis Autopilot

Altitude Pre–Select/Alert

Altitude, Vertical Speed, Indicated Speed, Barometric, VNAV, Pitch and Roll Hold Modes

Yaw Damper

Garmin 6–Place Intercom with Two Audio Inputs

Pilot and Crew Isolate Functions

Digital Air Traffic Control (ATC) Playback

System Aural Warnings

Attitude and Heading Reference System

Air Data Computer

Dual Communication 8.33 Spacing,16 Watt Radios

Dual Navigation

Dual GPS WAAS GPS with LPV Approach Capability

Mode "S" Transponder With Flight ID & TIS

Autopilot – 3 Axis / GFC700

Terrain Avoidance Warning System (TAWS-B)

Data Acquisition Unit

XM Radio and WX Satellite Weather
new features and options
Standard ADS-B Out and In

Optional wireless data base and flight plan loading

Integrated VFR Sectional Charts

IFR High and Low Charts with Night Mode

Enhanced HSI features

COM frequency decoding

Vertical Situation Display

Selectable Visual Approaches

Optional Surface Watch for runway safety

Enhanced graphics and faster processing

Improved joystick with smoother panning

Simplified maintenance
Modern enhancements bring the Beechcraft Bonanza's legendary capabilities into the 21st century and make your flying dreams a reality.
Consuming less fuel than the Cessna Turbo Stationair, yet still able to fly significantly faster, the Bonanza G36 includes highly–efficient airflow enhancements to improve productivity and reliability. Powering this bold performance is a 300–horsepower Gold Standard Continental IO–550–B engine with a Hartzell three–blade aluminium alloy propeller. This engine is internally mass–balanced and features new airflow enhancements.
The Bonanza G36 offers more of the same ground-breaking power that has delighted generations of owners and operators. It soars faster, farther and higher than ever before with a maximum cruise speed of over 200 miles per hour, a maximum range of more than 980 miles and a service ceiling of 18,500 feet. Simply put: this is the ultimate six–place piston–engine aircraft for first–time owners and experienced pros alike.
highlights
Designed and built 15 percent stronger for certification in the rugged utility category

The Hartzell 80–inch three–blade, constant–speed propeller features a polished spinner and is dynamically balanced to reduce vibrations and noise

Climbs an impressive 1,230 feet per minute from sea level

Max cruise speed of over 200 mph, a service ceiling of 18,500 feet and seating for six: the Bonanza G36 is a real world airplane, unlike other smaller, less capable four–seat designs

Robust Build: 3,650 pounds gross weight puts the Bonanza in the utility category
Dimensions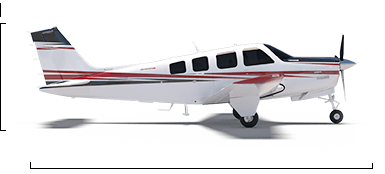 Length
27 ft 6 in (8.38 m)
Height
8 ft 7 in (2.62 m)
Wingspan
33 ft 6 in (10.21 m)
Wing Area
181 sq ft (16.82 sq m)
Wheelbase
9 ft 7 in (2.92 m)
Tread
N/A
Cabin Interior
Height
50 in (1.27 m)
Width
42 in (1.07 m)
Length
12 ft 7 in (3.84 m)
Maximum Passengers
6
Baggage Capacity
Weight
70 lb (31.8 kg)
Volume
10 cu ft (0.28 cu m)
Single Pilot Certified
Yes
Weights
Maximum Ramp Weight
3,663 lb (1,662 kg)
Maximum Takeoff Weight
3,650 lb (1,656 kg)
Maximum Landing Weight
3,650 lb (1,656 kg)
Maximum Zero Fuel Weight
N/A
Usable Fuel Capacity
Weight
444 lb (201 kg)
Volume
74 gal (280 l)
Basic Operating Weight
2,625 lb (1,191 kg)
Useful Load
1,036 lb (471 kg)
Maximum Payload
1,025 lb (465 kg)
Full Fuel Payload
594 lb (269 kg)
Performance
| | |
| --- | --- |
| Maximum Cruise Speed | 176 ktas (326 km/h) |
| Maximum Range | 920 nm (1,704 km) |
| Takeoff Distance | 1,913 ft (583 m) |
| Ground Roll | 962 ft (293 m) |
| Landing Distance | 1,450 ft (442 m) |
| Service Ceiling | 18,500 ft (5,639 m) |
| Maximum Climb Rate | 1,230 fpm (375 mpm) |
| Maximum Limit Speed | 205 kias (380 km/h) |
Powerplant
| | |
| --- | --- |
| Manufacturer | Cont. |
| Type | IO-550-B |
| Power Rating | 300 hp (224 kW) |
Aircraft performance is dependent on multiple variables (i.e. winds aloft, number of passengers, temperature and altitude of departure and arrival airports). The range, speed and endurance listed here represent average performance data. Contact one of our experienced Client Services Representatives who will be able to advise you on additional fuel stops or other limitations needed based on your itinerary and aircraft.
ABSOLUTE AVIATION GROUP
WITH YOU FOR THE JOURNEY